You can crawl over just about every inch of Japan and find yourself within shouting distance of a magical hot spring – or onsen, as they call them here. But while some onsen are more famous than others, that doesn't always mean that they're the cream of the crop.
With that in mind, here are the 9 best hot springs in Japan:
Follow along for the nitty-gritty details on each of these relaxation havens. You may have heard a few of the names on this list, but there others will be unfamiliar. There may even be a bonus onsen at the end!
Wanna learn more about bathing in Japan? See the funny side in the Bath House Rules, a Forever Foreign essay.
1. Atami Onsen, Shizuoka Prefecture
Atami onsen is like heaven on earth if you're a bath time connoisseur. It gets high grades in the convenience category since it's so close to Tokyo and is accessible by bullet train.
It's also located on a unique mountainside town facing the ocean which creates the effect of bathing in the sea. It was even such a popular area historically that Japanese shoguns supposedly brought the onsen's waters back to Tokyo with them.
You can adapt your style of trip easily to the area. There are a number of hot springs worth trying on a day trip or several inns that you can stay at with a range of prices, making it an excellent spot for your next onsen trip.
If you're able to pull yourself away from the baths for long enough, check out the nearby MOA Museum of Art.
2. Yufuin Onsen, Oita Prefecture
Located in the same prefecture as the famous Hells of Beppu, Yufuin also has a high pH level in its water, which means luxurious natural moisturization for your skin.
This onsen town is bursting with old school Japanese charm, with several beautiful traditional inns in the area and walkable neighborhoods all around.
It's a little less convenient than some of the other hot springs on this list, but it's well worth a stopover. You can also take a train ride over to see some of Kumamoto's best onsen.
Oh, and if you're a nature lover, you'll especially love Yufuin as there are plenty of mountains to hike and other outdoor activities to enjoy.
3. Fuji Yurari Onsen, Yamanashi Prefecture
There's no shortage of natural beauty in the area surrounding Mount Fuji. And if you want to get a clear view of the mountain while soaking in rejuvenating waters, look no further than Fuji Yurari Onsen, at the northern foot of Mount Fuji in Yamanashi prefecture.
It's likely the least-known hot spring on this list, and that's a shame. There are 16 types of baths, two of which are outdoors with phenomenal views of the most famous mountain in Japan.
Here's a list of Fuji Yurari Onsen's bathing options:
Outdoor panorama bath
Aromatherapy baths
Carbonated bath
Steam bath
Cave bath
You can pop in for one-time use while on a day-trip to Fuji, or you can stay at a guesthouse. Whatever you do, don't forget to try houtou, Yamanashi's famous hotpot dish.
4. Hakone Onsen, Kanagawa Prefecture
On the opposite end of the onsen fame-meter, there's Hakone onsen, also in the Fuji area. But while it might be the most well-known spot on this list, that's not the only reason it's here.
The area is famous for its spectacular scenery, including lake Ashinoko, a caldera lake that offers a pirate ship boat tour! Or, if the pirate life isn't for you, you can also try something more modern.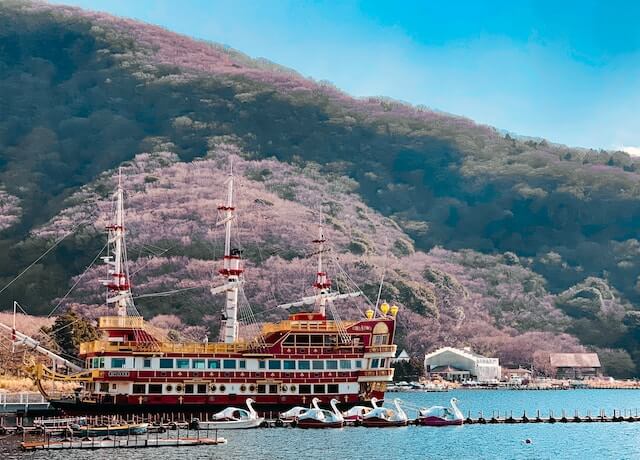 Hakone also happens to be home to some of the best ryokans (traditional Japanese inns) in Japan, so if you're looking for a romantic getaway, this might be your best bet. It isn't just one single onsen town, but a number of lovely areas that you can pick and choose from.
It's also a convenient distance to some of Mount Fuji's best attractions.
5. Nozawa Onsen, Nagano Prefecture
If you head deeper into the mountains, you'll find yourself in Nozawa, one of Nagano prefecture's best kept secrets.
The hot springs here are open to the public all year round, but winter is where the magic is. Heading there from mid-December to February will allow you to take in the snowy-white landscape while bathing in not only one of Nagano's best onsen, but Japan in general.
There are several popular ryokans in Nozawa, and you can also take advantage of the free open-air onsen that's open to the public. It's a great way to soak up one of Japan's oldest traditions. Back in the times when onsens were fully outdoors and fully natural.
6. Arima Onsen, Hyogo Prefecture
This onsen makes the list because of its rich history and unique salt baths.
Like the famous Dogo Onsen, Arima has a history that goes back as far as the Asuka period (592-710 AD). And it's another place with a famous patron in Hideyoshi Toyotomi, one of Japan's most well-known historical figures. The daimyo supposedly took baths at Arima Onsen often throughout his lifetime.
Aside from the rich history, Arima is famous for its 'Golden water' baths which contain more salt than sea water, giving you extra potential health benefits.
Since this spot is within the city of Kobe, it's a great option for those not wanting to go far out of their way into the other more rural hot springs on this list. It's also a convenient excuse to try some Kobe beef.
7. Ginzan Onsen, Yamagata Prefecture
Located in the mountains of Yamagata prefecture is Ginzan, a small village dedicated to creating the most magical hot spring atmosphere you can find.
The town is known for beautiful ryokans which line up along the river, creating a surreal experience. There are also 2 public baths in the town which cost 500 yen for those who are traveling on a budget.
The only downside to this location is… it's location. It's a 4-5 hour train ride from Tokyo, but if you're willing to make the trip, Ginzan is well worth the effort.
Like Nagano, the area is most famous as a scenic winter wonderland, but visiting in the summer isn't a bad idea, either. If you show up at the beginning of August, you can hit the Hanagasa dancing festival along the way.
8. Kinugawa Onsen, Tochigi Prefecture
Another onsen destination that's both popular and high-quality is Kinugawa onsen. This spot attracts a lot of visitors because of its beautiful surroundings, attractive accommodations, and its affordability compared to other famous onsen towns like Hakone.
It's also only a two hour drive from Tokyo and is near the popular historical gem of Nikko. While you're there, consider seeing a few of the following attractions:
Kinugawa onsen itself sees over 2 million visitors yearly, so make sure you plan ahead for this one.
9. Kusatsu Onsen, Gunma Prefecture
Last but definitely not least is Kusatsu onsen. This destination is well-known among tourists and locals alike, and is considered one of Japan's "sanmeisen," or "three most famous onsen."
Kusatsu onsen is famous for being 1,200 meters above sea level and surrounded by mountain ranges, making it perfect for those seeking a hot spring with a view. But what it's even more famous for is the "Yubatake," which translates to "hot spring field."
The Yubatake is a series of wooden waterways that serve to cool down the piping hot water that naturally bubbles up from the earth. The water is then distributed to the many baths in the area.
Although Kusatsu onsen is accessible, it does require a bus or train to get there. Plan for about 3-4 hours if you're coming from Tokyo.
Top Secret Recommendation: Kawazu Onsen, Shizuoka Prefecture
Now we're into some slightly more obscure, but still impeccable hot springs.
Kawazu onsen isn't so famous to foreigners, but what makes it stand out is the location. Next to Odaru Falls, a dip in these waters allows you to take in the ambience of the waterfall while enjoying an onsen bath that's every bit as relaxing as the others on this list.
You'll also have the option of diving into a few different cave onsens if you're staying at one of the hotels in the area.
Add to that the fact that this onsen is near Tokyo and you've got yourself a launchpad for good times.
What is the Hottest Onsen in Japan?
The hottest onsen in Japan is Yumura onsen. Located in Shinonsen-cho, Hyogo prefecture, Yumura onsen has water that reaches 98 degrees celsius. Since this is almost the boiling point of water, people don't actually use it for bathing. Instead, locals often use it for boiling eggs and vegetables.
If that sounds like the opposite of relaxing, rest assured. Yumura onsen has tamer baths that visitors can use.
Can Foreigners Go to Onsens in Japan?
Foreigners can go to onsens in Japan, but there are bath house rules to follow. For example, tattoos are usually not allowed because they're still associated with crime and delinquency. You also need to be fully nude at most onsen, so if you're shy, it may be better to rent a private bath at a ryokan.
With that said, onsens these days are becoming more accepting, and some even openly embrace those with tattoos or more commonly allow you to slap a body sticker on them, as with some spas in Tokyo. There are also many hot springs that allow visitors to cover up with towels while in the bath and even specific foreigner-friendly onsens that allow Hijabs.
Conclusion
Although there are many spectacular onsens in Japan, the most famous ones are usually famous for a reason.
Take a dip in any of the top hot springs on this list and you won't regret it. You'll probably walk away with softer skin and a weight lifted off your shoulders, too.
---
Ginzan onsen photo by Koichi_Hayakawa – https://search.find47.jp/ja/i/WcMzR, CC BY 4.0, https://commons.wikimedia.org/w/index.php?curid=104853113
Odaru falls photo by Jpatokal – Own work, CC BY-SA 4.0, https://commons.wikimedia.org/w/index.php?curid=123718847