Looking to melt your troubles away with a blast of geothermally-heated water? You might just want to add Japan to the top of your travel list.
The country is littered with some incredible hot springs, or "onsen," each one with the magical ability to rejuvenate every square-inch of your body. But some are more well-known than others.
Here are Japan's 11 most famous onsen:
Some of the hot spring resorts on this list date back hundreds of years. In this article, we'll tell you what to expect if you decide to pay them a visit.
Wanna learn more about bathing in Japan? See the funny side in the Bath House Rules, a Forever Foreign essay.
1. Dogo Onsen
Matsuyama, Ehime Prefecture
Famous for its history and being the inspiration for Spirited Away
When coming up with a top destinations list, there are times when deciding on the number one spot can be a challenge. This is not one of those times.
Dogo Onsen, located in the city of Matsuyama on the island of Shikoku, is easily the most famous onsen in Japan. It's also one of the oldest, with a history dating back over 1,000 years.
The main bathhouse, called the Honkan, is a national treasure and has been designated as an Important Cultural Property of Japan.
It's also said to have inspired the famous animated film "Spirited Away." One look at some of the intricate architecture and you'll understand why.
It can be a difficult destination to fit into many people's itineraries, but it's worth a visit. The surrounding area is incredibly beautiful and serves as one end of the shimanami kaido, an island-hopping 75-kilometer bike ride.
2. Beppu Onsen
Oita Prefecture
Famous for beautiful ryokan and its Hells of Beppu onsen park
Next up is Beppu, an onsen town located smack-dab in the middle of Kyushu.
The area is known for its large number of hot springs, with over 2,000 in the area. But don't assume that Beppu is only known for quantity.
A trip to this southern region will open up limitless itinerary options, from luxurious ryokan stays (traditional Japanese inns) to onsen hopping from one rejuvenating pool to the next.
Then there are the Hells of Beppu – hot springs with different natural colors and characteristics. There's an actual onsen theme park designed around these pools of geothermal water that you can spend an afternoon touring around.
Just remember to bring a little cash to cool down with ice cream.
3. Kurokawa Onsen
Kumamoto Prefecture
Famous for its charm
Make your way west of Beppu onsen and you'll soon be at Kurokawa onsen, one of Kumamoto's many beautiful onsen spots.
But it's not only a great hot spring destination by Kyushu's standards. It's also one of Japan's most famous onsen areas.
And while Kurokawa onsen doesn't have a claim to any kind of underworld-themed baths like Beppu, it is close to Mount Aso, one of Japan's most active volcanoes.
But don't let that scare you away. What the area is best known for is being a relaxing and romantic getaway full of gorgeous ryokans surrounded by nature.
Think of it as a village built for soothing baths and traditional aesthetics.
4. Kusatsu Onsen
Gunma Prefecture
Famous for the Yubatake onsen water system
Stepping away from Kyushu and heading northwest of Tokyo, you'll find Kusatsu Onsen. It's one of the most famous onsens in Japan, known for its large volume of high-quality water output.
You can stay at one of several ryokans while there, but make sure you don't miss the Yubatake, a system of mini wooden canals that pipe hot spring water in different directions. It's quite the sight and well worth a detailed photo op.
If you're into winter sports, you can also visit in the colder months like January and get your fill of skiing and snowboarding at a nearby ski resort.
5. Ginzan Onsen
Yamagata Prefecture
Famous for its dreamlike winter landscape
Even further north is Ginzan onsen, located in Yamagata Prefecture.
It's a small hot spring town that stirs up an Edo period-like atmosphere, with traditional wooden buildings and a picturesque river running through the center.
Despite its size, Ginzan onsen is easily one of Japan's most well-known hot springs. Visitors especially like to visit in the winter as it's known for its snowy scenery.
If you're a fan of the white stuff, consider taking a trip up there in January. The whole area becomes a Japanese winter wonderland at that time of year.
6. Noboribetsu Onsen
Hokkaido
Famous for "Hell Valley," full of natural hot springs and geysers
While Yamagata prefecture is a gorgeous place in the winter, the snowy crown undoubtedly falls on Hokkaido's head.
The northernmost island is famous for its world-class ski and snowboard resorts. And what better way to wind down from a day of shredding than with a relaxing dip in the onsen?
If that sounds good to you, Noboribetsu Onsen is the place to go. It's known for its sulfuric hot springs and has a variety of different types of baths, including foot baths and sand baths.
The Jigokudani, or Hell Valley, is also a popular spot for checking out natural hot springs and geysers up close. The area is full of them, just as there are many onsen options throughout Hokkaido.
7. Shibu Onsen
Nagano Prefecture
Famous for the red-faced Macaques
Further south, in another of Japan's many mountainous landscapes, is Shibu onsen.
It's a small hot spring town that has retained its traditional atmosphere, with wooden buildings and narrow streets. And if you didn't see enough 'Hell Valley' in Hokkaido, you can get your fill here.
This Hell Valley has a small twist though: Monkeys.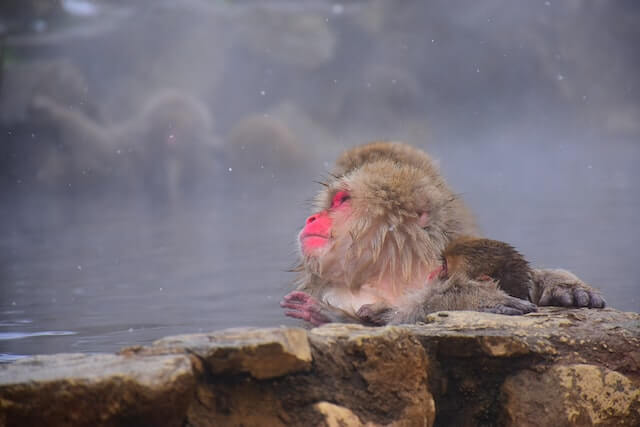 Have you ever seen those famous pictures of red-faced Japanese Macaques sitting in steaming outdoor baths? They were likely taken at Shibu onsen.
But don't worry. If scrubbing down with primates isn't your thing, you can try one of the many ryokan or hot spring houses in this Nagano onsen hot spot.
Oh, and try the onsen tamago, or hot spring eggs while you're there. They're boiled in hot spring water, giving them a unique texture and taste.
8. Atami Onsen
Shizuoka Prefecture
Famous for its seaside views
Bordering Nagano is Shizuoka prefecture, partial home to Mount Fuji.
It's probably best-known for hosting the most celebrated natural monument in Japan, but it also happens to have some incredible hot springs. And if you head to the coast, you'll find one of Japan's most famous ones: Atami Onsen.
It's been popular since ancient times, with a variety of baths, including sulfuric and alkaline springs. It's also known for its beautiful views of the ocean.
Take your time in this area and enjoy hot spring baths that make it look like you're resting in the ocean.
9. Hakone Onsen
Kanagawa Prefecture
Famous vacation spot near Tokyo
If you've read up on Japanese hot springs at all, you've probably heard of this one. Heck, if you've read Haruki Murakami's South of the Border, West of the Sun, you'll know a bit about the area.
Hakone Onsen is located in Kanagawa Prefecture, a little west of Tokyo. It's a popular destination for day trips from the capital and is known for phenomenal views of Mount Fuji and Lake Ashinoko.
There's a wide variety of hot springs, including sulfuric and alkaline springs, and also plenty of romantic ryokans, so finding something that puts you in a relaxed state won't be hard.
While you're there, give the black eggs (kurotamago) a try. They're boiled in the hot springs and turn black due to a chemical reaction. Don't worry, they're safe to eat – and delicious!
10. Kinosaki Onsen
Hyogo Prefecture
Famous for its atmosphere, being tattoo friendly
If you find yourself in the chugoku area at the southwestern tip of Japan's main island of Honshu, there's one onsen that stands out from the rest: Kinosaki onsen.
It's a charming hot spring town located in Hyogo Prefecture, near the Sea of Japan.
There are seven public bathhouses, all within walking distance of each other, and visitors are encouraged to wear yukata, a casual Japanese kimono, as they stroll from bath to bath.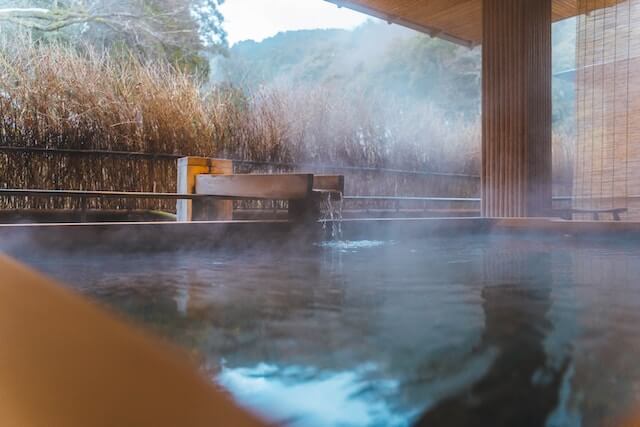 The town is surrounded by beautiful nature and offers a variety of outdoor activities, such as hiking and skiing in the winter.
Kinosaki Onsen is a great destination for those looking for a traditional hot spring experience with a touch of old-world charm.
As an added bonus, it's one of the few onsen towns in Japan that openly welcomes people with tattoos, allowing access to all seven of their public bath houses. This is a rarity among traditional Japanese bath housese.
11. Ibusuki Onsen
Kagoshima Prefecture
Famous for its sand baths
Looking for a twist on the typical onsen formula? Ibusuki onsen has you covered.
Located in Kagoshima Prefecture, at the southern tip of Japan, it's known for its sand baths, where visitors are buried in naturally heated sand from the hot springs.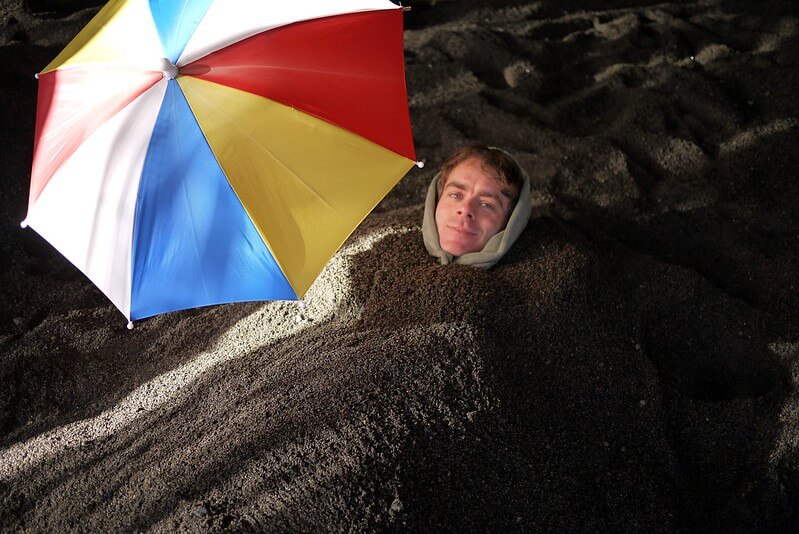 The sand is said to have therapeutic properties and makes for a unique way to experience an onsen. It's also made Ibusuki onsen a hotspot for people from all over the country.
If the sound of being buried in sand turns you off a bit, there are regular onsen baths there, too. But really… You gotta try the sand baths!
What is the Most Popular Onsen in Japan?
Kusatsu Onsen is often cited as the most popular onsen in Japan, thanks to its high-quality water and large volume of water output. It's also easily accessible from Tokyo and other major cities in Japan, making it a magnet for city-slickers looking for a relaxing getaway. Hakone onsen is another super popular onsen, especially among tourists.
Where is the Oldest Onsen in Japan?
Dogo Onsen, located in Matsuyama on the island of Shikoku, is believed to be the oldest onsen establishment in Japan, with a history dating back over 1,000 years. The main bathhouse, called the Honkan, is a national treasure and has been designated as an Important Cultural Property of Japan.
With that said, onsen are naturally occurring hot springs, and many areas in Japan claim to have an even longer history than Dogo Onsen, if not necessarily the oldest buildings.
Conclusion
If you're looking to make your next trip to Japan a relaxing one, think about plopping in one or more of the onsen on this list into your itinerary.
From the historic Dogo Onsen to the seaside Atami Onsen, there's something for every traveler. Give them a try and you'll start to feel your troubles melt away.
---
Dogo onsen photo by z tanuki, CC BY 3.0, https://commons.wikimedia.org/w/index.php?curid=58591365
Kurokawa onsen photo by hiroooooki from Tokyo, Japan – 黒川・湯布院温泉032, CC BY 2.0, https://commons.wikimedia.org/w/index.php?curid=15027269
Ginzan onsen photo by Koichi_Hayakawa – https://search.find47.jp/ja/i/WcMzR, CC BY 4.0, https://commons.wikimedia.org/w/index.php?curid=104853113