Tokyo is a big place with lots to see. And if you do enough moving around from one awesome sight to the next, you're bound to get tired. Maybe even a little sweaty. Luckily, there's a relaxation paradise around just about every corner where you can wash those troubles away.
Here are 9 spas in Tokyo to add to your next Japan trip:
Each spa on this list is there for a different reason, but they're all worth a visit.
Something to note: Ooedo Onsen Monogatari, a famous Tokyo hot spring might've made this list in the past, but it closed in September 2021.
Location: Toshima ward
Entry Fee: ¥3,150 base price, ¥2,500 for 100 minutes or less
Consistently ranked among the top spas in Tokyo is Time Spa Resta. One reason for that could be the fact that it's a kid-free zone where you have to be over 18 to enter. This sets it apart from many other Japanese onsens and bath houses where people often go as a family.
Aside from extra peace and quiet, the facilities are also widespread and state-of-the-art. Think of it as a mix of modern spa treatment and some fantastic Japanese baths and saunas.
Here are a few of the highlights:
A wide variety of baths to choose from
Massage and body care services
Cubicle-style lounge areas with TVs
A restaurant
Some other sights and attractions in the area include the Tokyo Metropolitan Theater and the nearby Pokemon Center. Fitting one or two of them into a day-itinerary could be just what the doctor ordered.
Location: Bunkyo ward
Entry Fee: ¥3,230, ¥880 for Healing Baden access
Nestled within the Tokyo Dome City complex, LaQua Spa is a sleek spa that offers a range of pampering treatments. From hot spring baths to sauna rooms, LaQua Spa is an oasis in the heart of Tokyo.
If that doesn't get you excited, maybe the area's thrill rides will. In the same entertainment complex, there's a free-to-enter amusement park where you can pay to rip around on a roller coaster, twirl on the swing ride, or enjoy a sky-high view of the city on the Ferris wheel.
We won't blame you for sticking to the actual spa, though. Here are some of the features that make it stand out:
Open all night for an extra cost in the late hours (closes from 9 to 11 AM)
18+ Healing Baden lounge and bath area (garments must be worn)
Carbonated bath with benefits for the skin
Indoor and outdoor baths
Massage services
If the amusement park isn't enough, check out the Baseball Hall of Fame Museum or the Koishikawa Botanical Garden.
Location: Chiyoda City
Entry Fee: ¥1,790 (¥1,990 on weekends) or 3-hour bath-only courses for ¥500
Part of a larger chain of spas, the people who dreamed up Raku Spa's 1010 location had "an urban oasis" in mind when designing it.
It's simultaneously fun and relaxing, with a tasty pub serving food and drinks, various lounging rooms, and some incredible baths. Not your typical spa atmosphere at all, but that's part of the charm. Think of it as more of an adult relaxation wonderland.
Here are a few of the highlights:
A variety of interesting relaxation rooms where you can lounge and read books on bean bags, hammocs, in cubby holes, and more
Several baths and a sauna
Massage services
Running area
There are just about a million other day trip options in the area too, like Akihabara, the Imperial Palace, and Tokyo Daijingu.
Location: Toshima ward
Entry Fee: ¥1,320
On the opposite end of the traditional onsen spectrum, there's Tokyo Somei Onsen.
Located in Tokyo's Toshima Ward, this onsen has a sleek, no frills feel to it. The facility features several types of baths, including indoor and outdoor hot spring baths, as well as private hotel room baths that can be reserved for a more intimate experience.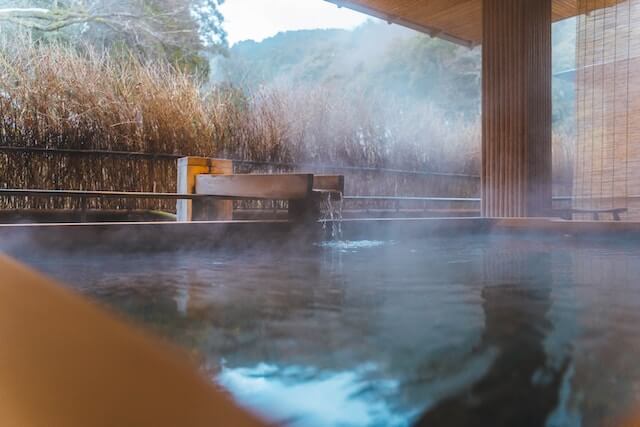 The whole facility has a wonderful old school Japanese onsen charm to it, smack dab in the middle of a modern metropolis. It even naturally sources its onsen water.
Here are a few of the highlights:
Stone sauna access (separate ¥1,100 fee, ¥1,320 on weekends)
Salt baths for muscle and joint pain relief
100% natural hot spring water
Body care and beauty salon
Japanese restaurant
Since it's in the same area as Time Spa Resta, you can also fit this Tokyo spa in with trips to the Tokyo Metropolitan Theater or the nearby Pokemon Center.
Location: Nerima ward
Entry Fee: ¥2,370 (¥2,670 on weekends and holidays). Special ¥1,600 nighttime fee after 6 PM.
If you're a fan of saunas, there's good news for you. From stone saunas to more exotic varieties like Finnish log house saunas, Niwa no Yu has hot air in spades.
This spa complex is also massive, with enough baths, relaxation rooms, and services to keep you busy all day. There's also the Body Zone, where you can strap on a swim suit and do aquatic exercises or relax and enjoy the different baths.
Here are a few of the other highlights:
Various massage and body care options
Stone saunas (¥510, ¥710 on weekends and holidays)
Outdoor tent saunas
Finnish saunas
Consider making a stop at this spa after day trips to other sights and attractions in the area such as Chihiro Art Museum or the many nearby public parks.
Location: Shinjuku
Entry Fee: ¥2,600 (plus ¥900 on Saturdays, Sundays, and national holidays)
For a unique and modern spa experience in Tokyo, Thermae-Yu is worth the higher price of admission.
This large-scale urban onsen facility is located in bustling Shinjuku and offers a wide range of facilities, including multiple indoor and outdoor baths, saunas, steam rooms, and relaxation areas.
What sets Thermae-Yu apart is its diverse range of baths, many of which have stylish murals decorating the walls. The facility also serves delicious food and even has a bar.
Here are a few of the other highlights:
Several special baths including a moisturizing choral bath
Stylish individual bath tubs
Stone sauna for an extra ¥850 fee
Beauty treatment and massage courses
If you're thinking of hitting this famous Tokyo spa, there's no shortage of other things to do in the Shinjuku area such as the Shinjuku Gyoen National Garden or visiting the bars in Golden Gai at night.
Location: Itabashi ward
Entry Fee: ¥900 (¥1,200 on weekends and holidays)
Nestled in a quiet neighborhood of Itabashi ward, Saya no Yu Dokoro is a gem that offers an elegant, true Tokyo onsen experience. And similar to Tokyo Somei Onsen, it pipes in 100% natural hot spring water.
This intimate and cozy spa features several types of baths, both indoor and outdoor, as well as multiple saunas. You can feel a warm and welcoming atmosphere when you step inside, making it a popular choice for those looking for an authentic hot spring experience in Tokyo.
Here are a few of the highlights:
A variety of baths such as potted baths and outdoor baths
Themed stone saunas based on the seasons (¥760)
Various massage and beauty treatments
Private rooms and baths
Japanese garden
Consider making a stop at this spa after day trips to other sights and attractions in the area such as the Round 1 entertainment center or the nearby Mitsugi Park.
Location: Suginami City, west of Shinjuku
Entry Fee: ¥1,980 (¥2,180 on weekends and holidays)
Just a hop, skip, and a jump away from Shinjuku is Nahomino-yu, a multi-floor spa in Tokyo famous for its variety of baths. But best of all? It offers all-night bathing.
If you're a night owl, this could be a unique experience that you don't want to pass up. Go out for a few drinks with friends (but not too many!), make your way to the spa, and wind down in the wee hours of the night with a relaxing bath, sauna, or massage. What could be better?
Here are a few of the highlights:
Overnight bathing (closed from 9:30-10:30 AM)
Four floors with different baths, stone saunas
Healing, carbonated baths
Massage courses
Hot yoga
Nagonomino-Yu is worth a stop all on its own, but if you're looking to fit some other nearby attractions into your itinerary that day, you can't go wrong with the Suginami Animation Museum.
Location: Hachioji City, western Tokyo
Entry Fee: ¥750
Potted baths, carbonated baths, LED-light baths… Ryusenji no Yu has it all. It's a massive facility built with relaxation at its core with more options than most people would even know what to do with. Take a look at their website's virtual tour and see for yourself.
Each room and each bath has a modern look to it, and they all have distinct themes so that you won't get bored even with a lengthy stay. There are also several saunas to enjoy, relaxation rooms, and a restaurant.
Here are a few of the highlights:
6 different stone saunas (¥650 for access, ¥750 on weekends)
Massages and body scrubs
14 different baths
Hot yoga
There are plenty of other things to do in the area too, like the Tokyo Fuji Art Museum or Komiya Park.
Conclusion:
Maybe it's not much of a surprise, but a city as big as Tokyo has no shortage of spa options to choose from. Whether you're looking for an authentic Japanese onsen with natural hot spring water, a modern urban spa, or something in between, there are options for everyone.
Add one of these top spas in Tokyo to your next Japan trip and treat yourself to a rejuvenating end to a busy day. It's a great way to soak up one of Japan's oldest traditions, and by the end you'll feel like a billion yen.
---
LaQua Spa photo by Kakidai – Own work, CC BY-SA 4.0, https://commons.wikimedia.org/w/index.php?curid=73769462
Round 1 photo by 掬茶 – Own work, CC BY-SA 3.0, https://commons.wikimedia.org/w/index.php?curid=30081888