For a city packed with tall buildings and sprawling infrastructure, natural hot spring water might be the last thing you'd expect in Osaka. But the third biggest city in Japan has it in spades, piping it up from deep underground.
Here are the top 7 all-natural Osaka onsens:
Each one of these entries boasts mineral-rich geothermally heated water flowing right into some of the most relaxing baths around. Read all of the luxurious details below and plug them into your next Japan trip itinerary.

Heck, make it a hot water tour of Japan and plug some of the best hot springs or Tokyo spas into your plan!
Location: Konohana Ward
Off in central Osaka, Kamigata Onsen Ikkyu is one of the best Osaka onsens because of its state of the art facilities and relatively easy access. As a bonus, it's right next to the waters of Osaka bay.
For those wanting a collection of classic wooden Japanese baths, this is the place to go. There are several of them with a deep, warm color to them that adds to the rejuvenating atmosphere.
Here's a summary of the Kamigata Onsen Ikkyu's highlights:
Negative ion mist sauna, supposed to be good for your immune system
A wide range of stone and wood baths
Several outdoor baths
If you end up spending a day at Universal Studios Japan, consider stopping off at this natural Japanese hot spring afterwards. They're very close to each other.
Location: Osaka Bay Tower
Price: ¥2,640 and ¥2,860 on holidays
Another great option for those wanting to experience a traditional Japanese bathing environment is Solaniwa Onsen. It's also one of the most convenient names on this list as it's located in Osaka Bay Tower, not far from Osaka's main hubs.
When you step inside, it feels like you're walking straight into Japan's Azuchi-Momoyama-era, and that's by design. The facility was constructed with Japan's late-1500s in mind, and you can see colorful representations of that period everywhere, similar to the Edo-inspired onsen in Tokyo.
Don't think it's a gimmick, though. This Osaka hot spring pipes natural water straight from 1,000 meters below the ground.
Here's a review of the highlights that also put Solaniwa Onsen on the list of top spas in Osaka:
Massive outdoor garden with foot baths
Several hot spring bath varieties
Festival games and arcade
Stone saunas (ganbanyoku)
Private baths
Location: Taisho ward
Price: ¥700
When enjoying a nice hot spring bath, sometimes modern is better. Kouwanoyu does a great job of making this point.
The facilities are state-of-the-art, including a mixture of indoor and outdoor baths with plenty of space for you to relax without feeling overcrowded. There are also plenty of additional services like massage courses, a restaurant, and even a hair salon.
Here are some of the other highlights:
Carbonated hot spring bath
Reclining seat baths
Single-person baths
Jacuzzi baths
Location: Suminoe ward
Price: ¥750 (¥850 on weekends)
Similar to Kouwanoyu, Spa Suminoe isn't your typical Osaka onsen. It's a relaxation oasis offering everything from massage services to haircuts.
What sets it apart is the attention to detail. There are outdoor baths with lovely garden views and others that feel like you're bathing at the edge of a forest. And the baths themselves all have a sleek design, making you feel like you're really soaking up the best that Japan has to offer.
Here are some of the other highlights:
Carbonated baths
Mineral baths
Different saunas
If you make your way to Spa Suminoe, you can also check out Sports Village Suminoe next door. It's a recreation center with bowling, karaoke, batting cages, and more.
Location: Osaka's Kita Ward, north of Osaka station
Price: ¥850 base fee (¥950 on weekends)
Tennen Onsen, or Naniwa no Yu, is just a short train ride from Osaka station. As with other hot springs on this list, it sources its water from nearly 700 meters underground, piping hot. Because of that, you can relax, knowing you're getting it fresh.
There are also a variety of baths to enjoy, from naturey rock baths to 'pot baths' – a personal favorite of those who just want to sit alone in the bath and not have to worry about neighbors splashing them.
Tennen Onsen also offers several other attractive amenities:
Different saunas like infrared and steam
Salt sauna (on the women's side)
Facial scrubs
Massages
Location: Takatsuki City, Osaka
Price: ¥1,500 (¥2,200 with stone sauna access)
If you get overwhelmed with too many decisions, Tenjin Onsen might not be the place for you. On the other hand, its large facilities filled with 20 different baths might just be heaven for someone else.
The sprawling facilities ensure that anyone who pays the entrance fee has no shortage of relaxation options. There's even a ganbanyoku, or "stone sauna" where you lay down on heated stone and feel your troubles melt away.
Here are some of the other highlights of Tenjin Onsen:
Themed baths that change depending on the season
Private baths available for reservation
Hot yoga classes
Location: Toyonaka City, Osaka
Price: ¥870 (¥970 on weekends)
Last but not least, there's Genki Onsen Banpaku Oyuba, another all-natural Osaka onsen located a bit north of the downtown area.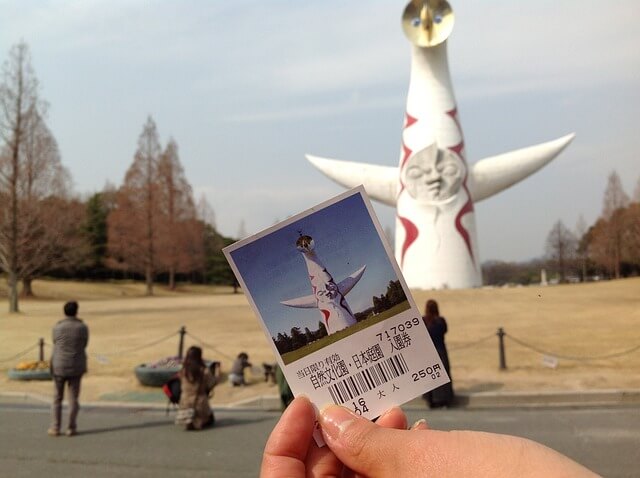 Since Banpaku Oyuba is a little more removed from the busiest parts of Osaka, that also means that it's more of a locals-hangout with fewer tourists. It's also right next to Expo 70 Commemorative Park, so if you're looking for another excuse to make the trip out, that might be it.
Here are a few of the other highlights that this hot spring has to offer:
Stone sauna for a separate fee (¥720 for 50 minutes or ¥420 for 25)
Salt saunas on the men's side of the baths
Several outdoor and indoor baths
Dry saunas
Conclusion
A trip to the onsen can be an overnight stay with yukatas, private baths, and high price tags. Or, it can be a more low-key day trip.
If you want to give the public bathing scene a try, any one of these Osaka onsens is well worth the visit. From carbonated water to scenic outdoor baths and special saunas, you can find it all. Pop in for a visit at the end of a tiring day and you won't regret it.
---
Osaka Bay Tower photo by Fumihiko Ueno – File:The_Bay_Tower_Hotel_-_panoramio.jpg, CC BY 3.0, https://commons.wikimedia.org/w/index.php?curid=54105457
Stone sauna photo by 663highland – Own work, CC BY 2.5, https://commons.wikimedia.org/w/index.php?curid=11571197