Nothing beats a private onsen. You get all of the relaxing benefits of a regular hot spring bath but without the swarms of tourists. Plus, they come with gorgeous rooms attached. You can book private rooms at hot springs in Kyoto or other major areas, but there's a whole magical world outside of the busiest parts of the country.
If you're looking for one of the most romantic and intimate atmospheres around, give one of these 11 private onsens in Japan a try:
Get that calendar ready, because any one of these spots will make a great addition to your Japan itinerary.
Consider this the cream of the crop.
Located in the town of Hakone, Gora Kadan gives visitors a chance to enjoy one of the most luxurious private onsen experiences in Japan. It also provides an opportunity to soak up history since it's on the former grounds of the imperial family's summer villa.
Unfortunately, a room at this ryokan comes with a heavy price tag (¥350,000 or $2,400 USD), but there's good news! You can make day-trip reservations to this hot spring haven. Here are some of the details of Gora Kadan day trip package:
¥13,200 ($90 USD) per person (up to 3 people per reservation)
Access to a private Japanese onsen and spa for about 90 minutes
Includes kaiseki (traditional Japanese full-course meal)
If you're looking to spend the night in a room with a personal hot spring bath, keep reading. But if you only want to reserve the bath, this could be the destination for you.
Located in the same premier onsen destination as Gora Kadan, Hakone Yuryo is a fantastic option for those who want to dip their toes into onsen culture without all of the extra bodies around. It's also a great choice to include in a Mount Fuji day trip itinerary.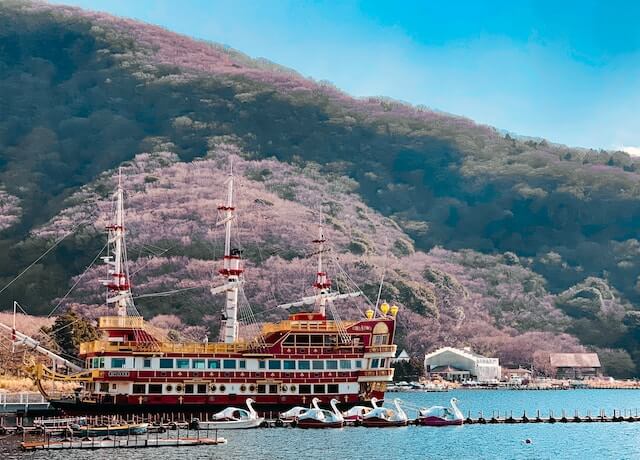 You can get an onsen room for two hours at a time with different versions ranging from ¥9,400-14,400 depending on the room type and the day (weekends are slightly pricier). If you just can't get enough after two hours, 30 minute extensions are also available.
Located on Kyushu, the southernmost of Japan's main islands, Kumamoto prefecture's hot springs are some of the best in the country. At the top of that list is Kurokawa onsen.
Yamanoyado Shinmeikan, in particular, is renowned for its traditional ambiance and private onsen facilities. There are several different baths for you to unwind in, including one set in a cave.
Oh, and they have fantastic festivals down there too.
If you're looking for a room, the standard price is ¥19,800 ($142 USD). Drop in fees are ¥500.
For a more modern take on a Japanese bath house, look no further than Taketoritei Maruyama, one of the top private onsens in Japan. Located in Kobe's famous Arima onsen, it's got luxury and fame packed into one.
The area is famous for its mineral-rich baths, including the 'silver bath,' infused with radium and carbonate, and the 'gold bath,' rich in salt and iron deposits. They're said to be great for joint and muscle recovery as well as nourishing for the skin.
Unfortunately, this facility doesn't have en suite baths, but their bathing rooms are for hotel guests only.
5. Kayotei – Yamanaka Onsen, Ishikawa
Kayotei is nestled in a little hot spring village called Yamanaka, and it's another private Japanese onsen that sticks to the traditional. From their website: "Guests wear no slippers in this ryokan; the walkways are tatami, as one would in the home of a relative or close friend."
With its minimalist design and private open-air baths, Kayotei provides an ideal setting for relaxation and introspection. Many of their rooms are inspired by the tea ceremony, providing guests a rare glimpse of Japanese tradition.
Built in 1931, Yunoshimakan offers a perfect blend of tradition and luxury. The Gero Onsen area that it's located in is considered one of Japan's "Three famous hot springs," making it a highly sought-after destination.
The facilities include buildings with traditional Japanese architectural design as well as western options for those looking for a home away from home.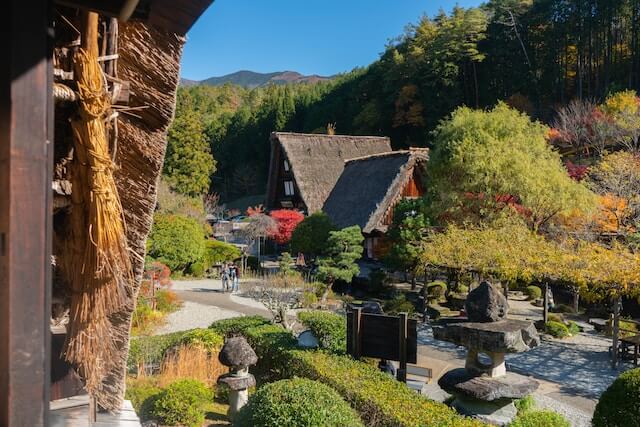 The main building was registered as a tangible cultural property of Japan in 2010 and is surrounded by beautiful forest, making it ideal for those looking to relax in nature.
Japan veterans and first-timers alike may have heard of Kinosaki Onsen. It's one of the few tattoo-friendly onsen towns in Japan and has some of the most storied private baths in the country.
Nishimuraya Honkan, in particular, is one of the top choices. This historic ryokan was built with Japanese tea houses in mind and boasts private baths with some of the best views around.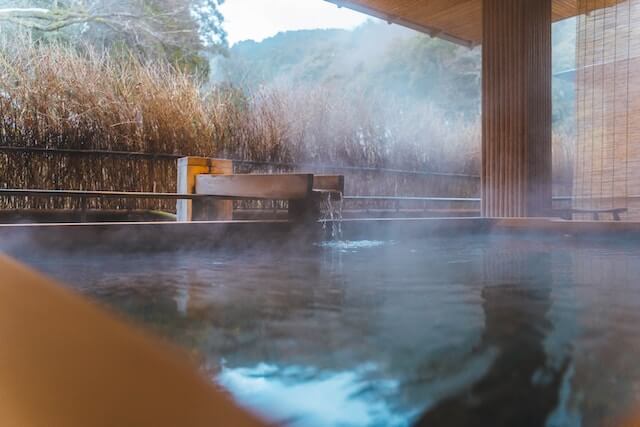 You can choose from many subtly different rooms, most with open air baths and carefully manicured gardens. There are also separate onsen facilities with a variety of baths, from polished stone to classic circular wooden baths. There are even rock garden baths that feel a bit like something you'd dig up yourself!
Recently opened in 2016, Yufuin Ryokan Seikoen is a relatively small facility with 10 rooms in total. Six are in the main building and an additional four are in a separate area with both Japanese and western options.
Almost any ryokan in Yufuin is worth a stay, but the attention to detail at Oita's Ryokan Seikoen sets it apart. There's a delightful fusion of modern comfort and tradition with a sprinkle of intimacy that you can only find at such a small facility.
Indulge in their private onsen baths while admiring the beautiful Yufu Mountain backdrop.
In the winter, Ginzan onsen takes on a fairy tale-like quality, so if you're in Japan during the colder months, it's a must-try. It's one of Japan's most famous onsens for a reason.
With its nostalgic charm and private onsen options, Fujiya allows you to experience the old-world ambiance of a traditional Japanese hot spring town. Among those bathing options are:
Japanese bamboo baths
Underground baths
Cedar baths
Stone baths
Skylit baths
The baths are open 24 hours a day and all eight private rooms face the Ginzan River. If you don't get your pants charmed off you get your money back. Just kidding… But only a little.
10. Zaborin – Niseko, Hokkaido
Count this private Japanese onsen as the ultimate luxury option on this list. It's also a great jumping point for outdoor winter fun.
Located on the northernmost island of Hokkaido, Zaborin overlooks the stunning natural surroundings of Niseko, a famed ski resort. The hotel offers a contemporary take on the traditional ryokan experience, with private onsen baths and award-winning kaiseki cuisine.
Each villa includes two private onsen – one indoor and one outdoor – so you'll have no shortage of relaxation options. Unfortunately, this swanky option is going to cost you with the fine dining option costing around ¥120,000 ($860 USD) and meal-less stays going for about ¥57,000 per night ($410 USD).
If that's not to your liking but you want to stay in that area, we've covered plenty of other Hokkaido onsen in a separate article.
For the nature-lovers, one of the best private Nagano hot spring options of all might be those found in Karuizawa.
At the base of Mount Asama, an active volcano, this area is one of the most famous escapes for city-dwellers in Japan. It's full of outdoorsy activity options, from skiing and snowboarding to hiking, and comes with all of the gorgeous views you would associate with such a place.
With its private onsen villas, Hoshinoya Karuizawa provides an exclusive and intimate stay in the area. There are plenty of options to choose from, all deep in the forest and mountain landscape.
Conclusion
From high-end luxury ryokans to low-key stops, there are so many private onsen options in Japan that it'll make your head spin. Hakone is the most famous destination for travelers wanting a romantic experience, but almost every prefecture has something to offer.
Just remember that if you're planning a trip to any of these destinations you'll need to make reservations well in advance as they're all in high demand. But if you book that trip you'll be in for one of the most soothing experiences there is.
---
Ginzan onsen photo by Koichi_Hayakawa – https://search.find47.jp/ja/i/WcMzR, CC BY 4.0, https://commons.wikimedia.org/w/index.php?curid=104853113