Looking for a breath of fresh air after spending time in Japan's big cities? Look no further than Mount Fuji, one of the most incredible outdoor destinations Japan has to offer.
There are plenty of set tours with a number of price ranges for first timers. However, with Japan becoming more accessible to English speakers, it's never been easier to personalize your journey.
By the end of this guide, you'll have a customizable blueprint that will allow you to experience Mount Fuji and the surrounding areas in your own unique way.
Getting to Mt. Fuji
The first, and (probably) most important step for enjoying a trip to Mount Fuji, is getting there.
There are a number of ways to get to Mount Fuji, and if you're coming from abroad it depends on which airport you arrive in. Tokyo is the most logical starting point and has the most options in terms of transportation.
Via Tokyo
If you're coming from Tokyo, you have three main options for getting to Mount Fuji:
Highway-buses are the most convenient option and run from Tokyo (Shibuya, Shinjuku stations) and other locations across Japan.
Driving, for those who are willing to pay a little more for the extra freedom and comfort.
A bullet train to one of the closer cities that offer tours or busses from there.
If you decide on taking the train or bus, there are several smartphone navigation apps that'll make planning the trip a lot easier.
Via Kyoto
Compared to Tokyo, Kyoto is a bit far from Mount Fuji. So, if possible, it's best to plan your trip from Tokyo and make your way to Kyoto after that.
However, if you wake up early enough in Kyoto and get bullet train tickets for one of the first departures, there's no reason you can't pack in a full day of fun around Mount Fuji.
Take the shinkansen (bullet train) to Mishima station and transfer to the Fuji Q bus bound for Kawaguchi-ko station. Between train and bus, the cost is about ¥13,000 and takes about 3.5 hours total. Take a look at the bus times via Mishima station for yourself and plan accordingly.
How Long Is the Drive From Tokyo to Mt. Fuji?
Driving from Tokyo to Mount Fuji takes between 2-3 hours depending on traffic. The Chuo expressway is the quickest option, but there is a toll. The fee is based on car size, with regular cars costing up to ¥5000 and smaller ones (kei cars with yellow license plates) closer to ¥4000.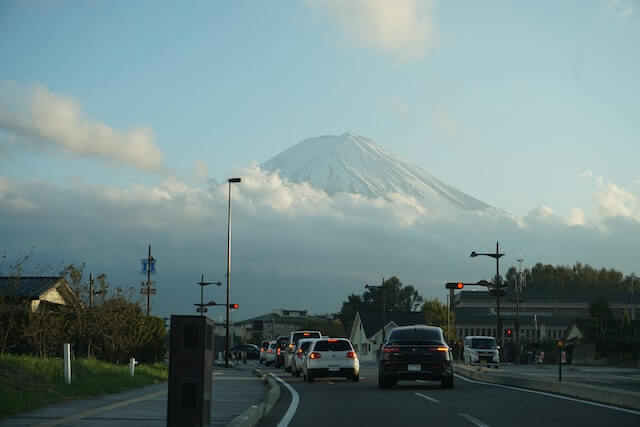 Toll prices are a bit difficult to work out, but if you know the departure and arrival city names then you can use this toll estimation tool for a general idea of the price of your ride.
Mt. Fuji Itinerary Ideas
There is no single ultimate Mount Fuji day trip, and that's a very good thing! People have different tastes, and the Fuji area is capable of catering to them all.
Take a look at our previous article exploring 14 different Mount Fuji trip ideas for a better idea of what we mean. Everything in the itineraries below is pulled from that list, from shopping at the massive Gotemba outlet to taking the perfect photo from one of the surrounding panorama parks.
Just note that many of the best Fuji attractions are on the east and southeast side. The main exception is some fantastic hot springs like Fujiy Yurari and the Mount Fuji Heritage Center, which is why we included it in the Kyoto itinerary, since you would be coming from the west.
Also, if you have a tokyo rail pass that applies to Fuji, you can consider most, if not all, of the train fees to be zero.
Fuji-Q Day Trip
This first itinerary is for the thrill seekers, as the main focus is one of Japan's best amusement parks, Fuji-Q Highland.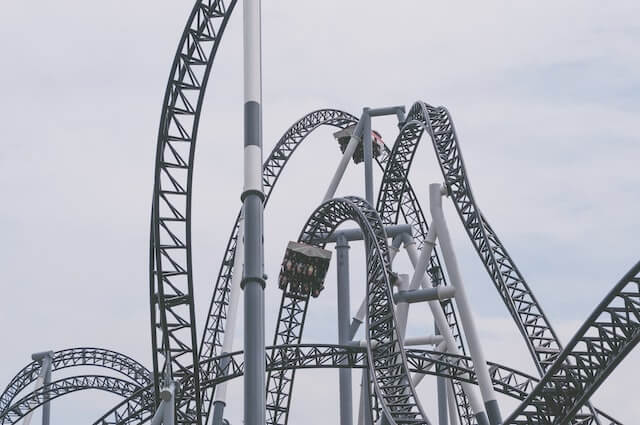 Leave from Shinjuku station by bus for Mt. Fuji 5th station at 6:45 AM. Travel time 2h 25 mins (¥3,800 for adults, ¥1,900 for children, one way). This is the highest point you can reach on Mount Fuji by public transport and has an amazing view of the surrounding area.
Head to Fuji-Q Highland from Mt. Fuji 5th station via Kawaguchi-ko station by highway bus. The 11:40 AM departure will take 40 minutes and cost ¥1,570, one way. From there, you can enjoy roller coasters and other theme park rides to your heart's content. Day passes are ¥6,300 per person and the park is open until 5 pm.
Enjoy the view from Mt. Fuji Panoramic Ropeway. Take the train from Fuji Q highland station to Kawaguchi-ko station. The 3 pm train is ¥180, and from there it's a 10 minute walk to the Base of Mt. Fuji Panoramic ropeway. ¥900 round trip for adults and ¥450 for children. Enjoy some beautiful views and try to catch the sunset!
Try the local delicacy, Unagi. Not too far from Kawaguchi-ko station, you can try grilled eel at the delicious Unagi Riki. High-grade eel is ¥3,450 per person and the budget option is ¥2,350.
Back to Tokyo. A 5 minute walk back to Kawaguchi-ko station before taking the limited express Fuji Excursion train to Shinjuku JR station.
Mt. Fuji World Heritage Center Day Trip
This second itinerary is more for someone wanting to get a better sense of the area from indoors. For variety, we'll start off in Kyoto, but you could do this trip from Tokyo even more easily.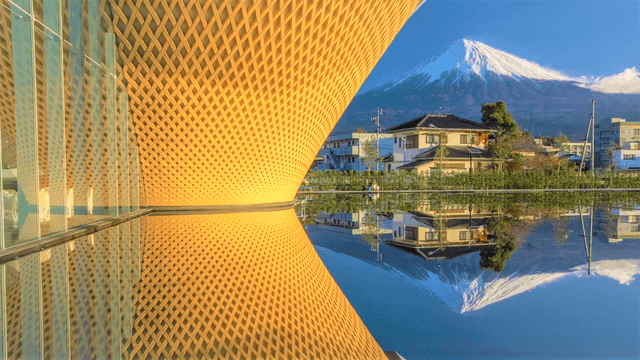 Leave Kyoto Station on the 6:26 AM shinkansen heading for Shizuoka. There are a few different route options, from transferring onto a limited express train in Shizuoka to multiple local trains. Your destination is Fujinomiya Station.
Walk to the Mount Fuji World Heritage Center from the station. The Mount Fuji center opens at 9 AM, so after walking from the station after the express train, you'll be right on time.
After soaking up Mount Fuji-related facts and history for a couple of hours, grab a bite to eat near Fujinomiya station. There's no shortage of options.
Hop on another train from Fujinomiya, bound for Iwanami station. From there, take a bus to Gotemba Premium Outlets and get your shopping fix with a gorgeous view of Mount Fuji.
Either make the long return to Kyoto or plan your overall trip so that you're staying in Tokyo that night (recommended).
Chureito Pagoda Day Trip
With one of the most scenic views of Fuji, Chureito Pagoda is a hot spot for tourists. And it's also a great focal point for another Mount Fuji day trip itinerary.
Rent a car and drive to Chureito Pagoda in the morning and enjoy the scenery while taking some fantastic pictures.
Make your way to Fuji's nearby lakes. From there, you could rent a kayak and go paddling on the pristine waters or find a nice trail for a hike.
Put a cherry on top of your day with a visit to a Japanese onsen before enjoying some of Yamanashi prefecture's famous hotpot, called Houtou nabe.
Make the reluctant return to Tokyo.
Mt. Fuji Day Tours
Just want to kick back and let someone else plan your Mount Fuji trip for you? A professional tour might be the thing you're looking for to make your visit stress-free.
Here is a list of some recommended day tours which offer a range of unique ways to experience the beauty of Mount Fuji.
Mt. Fuji and Hakone Full Day Tour
Hato bus provides full day tours between April 1st and June 30th. From 9 AM until 8 PM they take you to key spots in surrounding Mount Fuji and Hakone areas. Some of the highlights you can look forward to are as follows:
A cruise on Lake Ashi
Visiting the 5th level of Mount Fuji
Panoramic view of the mountain and surrounding areas from Komagatake Ropeway
Lunch is provided and prices are 12,800 JPY for adults and 10,800 JPY for children (subject to change). Follow this link for more info on this Fuji tour.
Private Car Tour of Mt. Fuji and Gotemba Outlet
This service will pick you up from almost any hotel in Tokyo and provide transportation via private car to and from Mount Fuji's 5th station. The tour then moves on to the popular Gotemba outlet mall where travelers can spend as much time (and money) as they like.
The 10 hour tour is ¥150,000 ($1,178USD) per group and can take up to nine people. Follow this link for more info on this private car tour.
When is the Best Time to Visit Mt. Fuji?
The best time to visit Mount Fuji is during the summer months of July and August when the weather is generally stable and clear, allowing for good views of the mountain. This is also the peak tourist season and the busiest time to visit, so be prepared for crowds.
If you prefer a less crowded experience, you may consider visiting in the spring (April to June) or autumn (October) when the weather is still mild and the foliage is changing colors. As with any mountainous area, check the weather forecast before your trip, as it can be unpredictable and quickly change from clear to cloudy or rainy.
Can You Climb Mt. Fuji in a Day?
If you're in really great shape, you can climb Mount Fuji in a day. Fuji's 5th Station is the highest starting point at 2,400 meters in elevation, making the total ascent a little under 1,400 meters. The trail from that point is 5 kilometers, which is doable if you're up for a challenge.
The Yoshida trail takes an average 5-7 hours to climb, and because of the sudden rise in altitude it's very common to experience altitude sickness. If you're not extremely confident, you may want to plan to do the climb over a two day period and try to stay at one of the mountain huts.
Conclusion
Mount Fuji day trips are fairly easy to plan since there are plenty of buses and trains going to the different attractions. And if you don't feel like organizing things for yourself, there are many one day tours, each offering a unique way to enjoy the wonder that is Mt. Fuji.
Try to plan your trip from mid-spring to early fall based on what kind of foliage you want to see and the availability of certain tours. Once you're there, enjoy the view.
---
Mount Fuji Heritage Center image by SHIZUOKACITYperson, CC BY-SA 4.0 https://creativecommons.org/licenses/by-sa/4.0, via Wikimedia Commons