The flood gates opened on October 11th with the news that Japan would be accepting unaccompanied tourists again. Or maybe the trickle gates would be more accurate. Tourism has been slow to get going, making it the perfect time for a first visit to the land of sushi and samurai.
Here are the top 11 places to visit in Japan for first timers:
If you're feeling really ambitious, you could even sneak a day trip to Mount Fuji somewhere in there. But if you manage to hit these locations and nothing more it would be an amazing time, as you'll see in this article.
Places to Visit in Tokyo
"Oooh Tokyo. They got some sake and sashimi and some clean sheets."
If it was good enough for the TV show MASH to rave about, it should be good enough for anyone. And you can see just how good spending time in Tokyo on a first trip to Japan can be in a separate essay post.
You can hardly do better than the capital, so let's start there.
1. Shibuya, Tokyo
As for where to begin, you could pick any of Tokyo locales but Shibuya is a good place to start because it perfectly encapsulates most people's image of the city. Bustling streets, bright lights, and a maze of side streets to get lost in. But not too lost…
If that's not enough to draw you in, go there just to experience the "Shibuya scramble" – a massive crosswalk just outside the station where traffic stops and the street opens to a flood of pedestrians. It makes for a great photo op, especially if you manage to peek down from an upper-story window like in Shibuya Sky.
Spend an evening exploring the area. There are some great restaurants and bars nearby and no shortage of things to draw your attention.
And if you need a break from the hustle and bustle, take a walk over to Meiji shrine. It's well worth a visit for lovers of nature and history.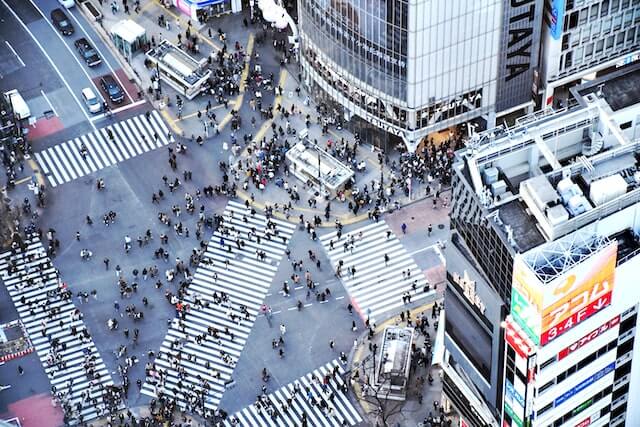 2. Shinjuku, Tokyo
Didn't get your shopping fix in Shibuya? Head on down to Shinjuku. There are dozens of trendy options to go along with bigger clothing and shoe brands.
Like most areas of Tokyo, this is another great place to meander over the course of an afternoon or evening. But at the end of the day, you'll want to shoot for a section called Goldengai.
As Shinjuku's resident bar street, it's filled with everything from Japanese pubs – or izakayas – to more luxe whisky bars. There's something for just about everyone looking for a great night out.
Be sure to take a look at some of the other locations in the area, too. Like Shinjuku Gyoen National Garden.
3. Asakusa, Tokyo
The tales these walls could tell.
Some time ago, a section of this part of Tokyo was a thriving red light district, hosting brothels, pleasure houses, dens of iniquity… Whatever you want to call them, Asakusa had you covered.
Since then, that part of Tokyo has had quite the makeover, and it's easily one of the top places to visit in Japan. Wander down those streets and you'll see rickshaw drivers ready to pull tourists, wonderful little restaurants, massive buildings, and rich history.
This part of Tokyo is great as a home base. It makes for a nice, quiet end to a lot of busy days.
However, you don't need to sleep there to enjoy it. Asakusa is home to the famous Sensoji Temple, well worth a visit on any day of the week as it hosts a large outdoor market with stalls selling traditional goods and foods.
Hop across the bridge and you'll see Tokyo's sky tree, a gorgeous sight at night when it's lit up like a rainbow-colored Christmas tree.
4. Akihabara, Tokyo
For something a little different, take a trip to Akihabara, a section of Tokyo known as 'electric town'.
Whether you're an otaku looking to get your arcade fix, or just a curious tourist, this is a must-see area of Japan.
A stroll through these streets and into the buildings will take you into multi-story arcades, shops full of anime figures, and electronic stores selling almost any niche item you can think of. The 80s and 90s kids in particular could spend hours just looking at the vintage video games on sale.
It's hard to make a recommendation on any specific spot to shoot for while there. Instead, try to soak up the atmosphere and set aside at least a couple of hours for wandering and window shopping. You won't be disappointed.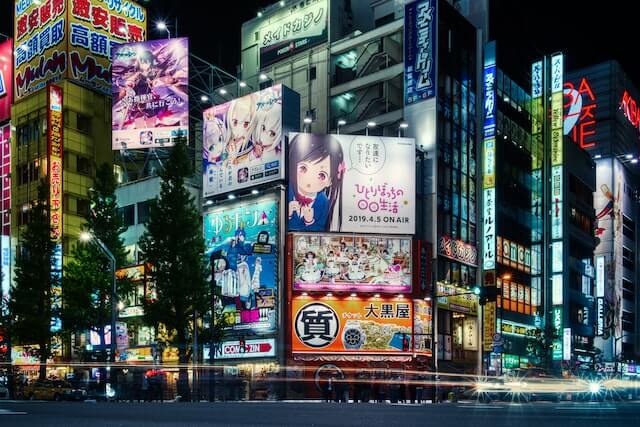 Places to Visit in Kyoto
After the busyness of Tokyo, you may want to hop on a train away from the noise. And Kyoto is one of the best places in Japan to go for that.
As the traditional capital of Japan, it's a city steeped in history, and it has the world heritage sites to prove it.
Here are just a few of the best spots to hit.
5. Fushimi Inari Taisha, Kyoto
If there's one picture that's synonymous with Japan, it's the orange tori gates of Fushimi Inari Taisha.
You don't have to be a professional photographer to snap a great pic, either. Just about every inch of the hike is picturesque – you could probably point your camera in any direction at any moment and something beautiful would end up in frame.
One word of caution would be to prepare for a lengthy walk with plenty of other people since it's one of Japan's most popular places for tourists. If you want to get away from the crowds, you might want to give one of Kyoto's nearby spas a try.
But the walk is nothing overly strenuous, and fighting off the crowds is well worth it. For a first-timer to Japan, this is a must-see.
6. Kiyomizudera, Kyoto
With renovations starting in 2008 mostly finished, Kiyomizudera is better than ever.
It's a storied temple in the heart of Kyoto with stylish cobblestone streets lined with shops leading to it.
For pictures packed with fall colors it's best to visit in late October or November. The view from the temple balcony is spectacular.
As a mecca for Japanese heritage, you'll probably see crowds of young students paying a visit. It's a common destination for elementary school graduation trips every year.
7. Teramachidori, Kyoto
The last place on the Kyoto list is Teramachidori. At first glance it may seem like just another shopping arcade, but it's so much more.
The covered, open air alleyway is full of niche shops selling traditional Japanese goods like versatile wall hangings and specialty foods. It's also chalk-full of delicious restaurants.
If you're feeling ambitious you could also head 2 kilometers south to Nishiki market for another niche shopping and eating experience.
Finally, take a walk down to Kamogawa River and you'll see dozens of groups of people drinking and having a good time. It's one of Japan's tourist places that offers the best shot at immersing yourself in local culture.
Places to Visit in Osaka
One short train ride away from Kyoto is Osaka, a city that often gets overlooked by first-time tourists.
It's a lot of people's favorite city to visit in Japan because there's a certain down-to-earth energy that can be hard to find in places like Tokyo and Kyoto.
Spend some time in a few of these places and you'll fall in love too. And if you're looking to wind down after a big night, there are plenty of affordable spa options in Osaka including spa world, essentially a bathing theme park.
8. Dotonbori, Osaka
Home to the famous 'Glico Man' – a massive fluorescent advertisement for the confectionary company, Glico – Dotonbori is the tourist hub of Osaka.
There are countless bars, restaurants, and shopping options to choose from, and you could easily spend several nights there without having the same experience twice.
On New Years Eve, you may see people jump off the bridge and into the dotonbori river, though it's not so common these days.
Any other night and you're bound to encounter all other types of shenanigans.
9. Nanba, Osaka
A stone's throw from Dotonbori, and within the same 'minami' area of Osaka is another amazing Japanese night life spot called Nanba.
Walk around and eat top tier Japanese street food like takoyaki or okonomiyaki, sample the bars, or just sit down and enjoy some quality people-watching.
By day it's a great shopping area, too, with department stores and smaller shops all around.
No matter what time you visit, there's always fun to be had in Nanba.
10. Universal Studios, Osaka
For a more family friendly option, look to Universal Studios Japan, usually referred to as USJ.
Even if you've been to Universal Studios in other parts of the world, there's good reason to check this one out. They have a Super Mario section of the park and sometimes have other special areas set up, like when they had an Attack on Titan themed ride.
Visit in October and stick around into the evening and you'll get the USJ Halloween experience where a portion of the park and certain rides become infested with zombies.
And if you're feeling tired after walking around all day, give the nearby Kamigata Onsen Ikkyu a try. It's one of Osaka's top onsen for a reason.
Places to Visit in Nara
Last, but not least, we have Nara.
Since it's a hop, skip, and a jump away from Osaka, visiting this quieter section of the Kansai region fits easily into any itinerary.
Don't think that convenience is the only reason to visit, though. Nara is another premier Japan destination.
11. Nara Park, Nara
If all you have time for is one stop in Nara, make it Nara Koen (park).
Access is easy since it's so close to Nara Station, and after vising USJ, you may be craving a little bit of open space.
Bring a picnic blanket, but prepare for guests since this park is famous for its deer. They're completely used to humans, so they may be a little forward, walking up to you and begging for a bit of food.
Within the park you'll have access to sights such as the famous giant golden Buddha and Todaiji temple.
Take your time and soak up the nature and history of the area.
Conclusions
If you're coming to Japan for the first time, you can't go wrong with a basic itinerary consisting of the country's biggest hubs of activity.
Consider getting a Japan Rail Pass to make it easier and enjoy ripping around some of the most storied streets in the world!
---
Thinking of taking the leap and living in Japan? Check out our article weighing the pros and cons first.