There are few countries with a railway system like Japan's. Walk into any train station and you can connect yourself to just about any corner of the country. But hopping on those rails ain't free!
Train ticket prices in Japan range from ¥100 for short trips to ¥5,000 and more when traveling between cities. Bullet trains are the most expensive, sometimes costing as much as airplane tickets over similar distances. If you're going to move around a lot, a Japan Rail Pass might save you money.
Read on to get a better idea of how much of your budget should go toward train costs when traveling to Japan.
What Trains Will You Be Riding in Japan?
When it comes to train travel in Japan, there are three main types of transportation. The first is the subway, the second is trains, and the third is shinkansen (bullet trains).
If you're like most of us, the moment you read 'bullet train' you're ready to bust out your wallet so you can make it rain. They're fun, fast, and are the theme of a Brad Pitt movie. They've also had really cool designs in the past like the old Evangelion train.
Unfortunately all of that comes with a hefty price tag if you don't have a JR Pass. They're also necessary if you're planning on jumping between cities, something you may want to do given how much there is to see throughout the country.
For the short-distance trips within cities and the medium-distance trips between cities in the same prefecture, trains and subways will take care of the rest.
How Much Does a Train Ride Cost in Japan? The Breakdown
It's hard to say, "Train travel in Japan costs $X," since that number will change based on how far and wide you plan on exploring the country. However, you can get a good idea of what your trip will set you back by looking at some common routes.
In a previous post, I went over some great Japanese locales for first-timers. I'll use some of those destinations as examples since it's hard to beat the classic recipe.
| | | | |
| --- | --- | --- | --- |
| Starting Point | Destination | Method (1-Way) | Price in yen with rough $USD |
| Tokyo station | Kyoto station | Bullet train | ¥14,000 ($103) |
| Kyoto station | Shin Osaka station | Bullet train | ¥2,500 ($18) |
| Kyoto station | Shin Osaka station | Train | ¥570 ($4) |
| Osaka station | Nara station | Train | ¥810-1,100 ($6-8) |
| Tokyo station | Asakusa station (Tokyo) | Subway | ¥300 ($2) |
| Tokyo station | Shibuya station (Tokyo) | Subway | ¥200 ($1.50) |
| Kyoto station | Inari station (Kyoto) | Subway | ¥150 ($1) |
| Tokyo station | Hiroshima station | Bullet train | ¥19,000 ($140) |
One-Week Train Budget Examples
If you're going with the rookie's whirlwind tour of Japan, your budget will look something like the following (all 2-way adult prices):
Tokyo-Kyoto = ¥28,000 ($206)
Kyoto-Osaka = ¥1,140-5,000 ($8-36) depending on whether or not you take the shinkansen
Osaka-Nara = ¥1,620-2,200 ($12-16) depending on the train you take
Trips within Tokyo, Kyoto, and Osaka = ¥150-300 ($1-2) every time you hop on the train
Add it all up with at least ¥4,000 ($30) in the budget for day-trips within cities and you're looking to spend a minimum of ¥34,800 ($256) for one week.
How Much Is Train Fare for a Child?
If you're hopping across the ocean with a family in tow, there might be good news waiting for you.
When traveling by train in Japan, kids get a bit of a break depending on how old they are. It breaks down as follows according to the JR East website (unfortunately it's in Japanese):
Babies under 1 year old ride free.
Children from 1 to under 6 years old ride free if they're with an adult. However, only two children can ride for free at a time with any one adult. In other words, two parents could bring four kids on the train for free.
Children from 6 to under 12 years old pay half-price.
Anyone 12 and over pays full-price.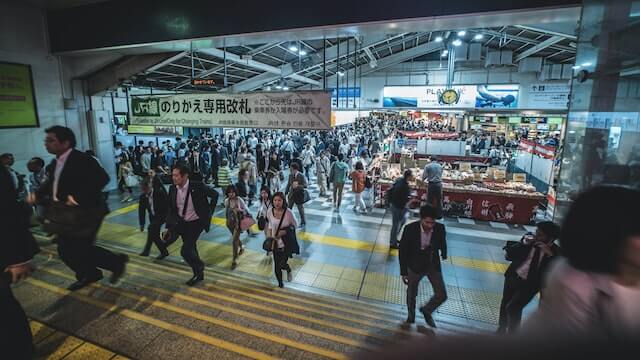 The Jr Pass: When to Get It?
Up until October, government travel restrictions made applying for the JR pass a gamble since you never knew whether your trip would happen. Those fears have been put to bed since the borders reopened.
If you want to know more about Japan's train pass for visitors, have a look at our other article on the topic. The gist is that the JR Pass is a great way to save if you're planning on hopping on a lot of trains.
Here's how much the Japan Rail pass costs when purchasing outside of Japan (it's more expensive after arrival):
7-day pass: ¥29,650 (¥14,820 for kids)
14-day pass: ¥47,250 (¥23,620 for kids)
21-day pass: ¥60,450 (¥30,220 for kids)
As you can see, the 7-day pass would just barely be worth it if you're going by the budget above. However, a word of caution: While the JR Pass covers all shinkansen rides and many trains, it can only be used on JR lines, meaning that most subways within cities won't be covered.
Also, keep in mind that there are Tokyo-specific train passes that can make your trip cheaper, too. It all depends on your personal itinerary.
Is It Cheaper to Fly or Take the Train in Japan?
It's usually cheaper to take the train in Japan than it is to fly. The exception is when traveling far north or south. For example, a one-way ticket from Tokyo to Sapporo, Hokkaido is about ¥28,000, roughly on par with a plane ticket. You would also save time, since the train can take 10 hours.
Going to southern extremes isn't much better, so if you're planning on visiting Fukuoka or even Okinawa, you may want to think about hopping on a plane.
Conclusion
Train ticket prices in Japan depend on where you're going, how fast you want to get there, and sometimes even what kind of seat you're looking for.
If you're trying to hit the major cities of Tokyo, Kyoto, and Osaka over a one-week stay, you'll likely want to budget for somewhere around ¥35,000, or $255. And if you're trying to jam even more fun into your trip, it may cost a little bit more.