Fans of Harry Potter and Fantastic Beasts rejoice. The latest and greatest theme park devoted to the wizarding world is set to open in June of this year. Get your passports ready.
The Harry Potter theme park in Tokyo is a studio tour with sets like Diagon Alley re-created by those who worked on the films. The design is similar to the Warner Brothers Studio Tour in London, England. However, it'll be even bigger and organizers have said that it will include exclusive content.
Read on and find out what to expect and how to get in.
What is Tokyo's Harry Potter World?
The tour can be compared to Nagoya's Ghibli Park design. It won't cater to thrill-seekers looking to hop on roller coasters or 3D rides like the ones you can find in Universal Studios' Harry Potter World.
Instead, the focus is on an immersive environment with an attention to detail that makes it feel like you're in the movies. There'll be authentic sets that you can walk through, props from the movies, and sounds that make it feel like you're heading for Pumpkin Pasties in the Great Hall.
Think of it as your best shot at becoming a witch or wizard.
Where is the Harry Potter Theme Park in Japan?
Japan's Harry Potter theme park is in the old Toshimaen amusement park grounds in Nerima, Tokyo. The site used to be the home of a sprawling theme park with roller coasters and a large water park, but it closed in August of 2020.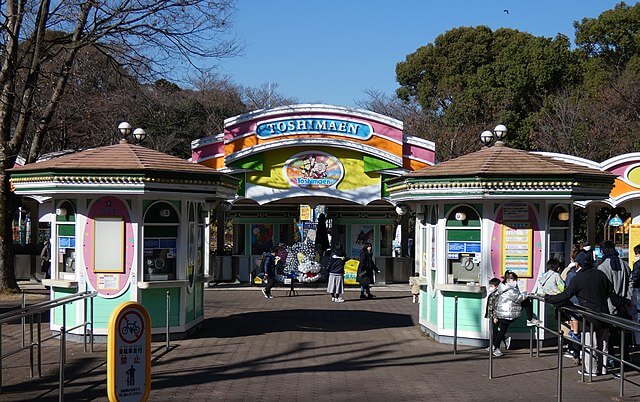 That area was stripped down and re-purposed, making room for the largest Harry Potter theme park on the planet. Even the nearby train station was re-designed so that it feels like you're pulling into Hogsmead Station as you enter the park by train from Tokyo.
How exactly did they renovate it? In many, magical ways, of course!
Harry Potter World Tokyo Features
As the atmosphere is the main selling point of the Warner Brothers Studio Tour, organizers focused on making every corner of the place wizardly.
There'll be special sets, props, food, and more.
Sets
As with the London Harry Potter tour, there are several sets that you can stroll through. Currently there are four listed for when the Tokyo park's grand opening:
Diagon Alley
The Great Hall
The Forbidden Forest
Platform 9 and 3/4
You can walk through each of these areas, take pictures, and wave your magic wands to your heart's content.
Props
Inside each of the sets you'll also encounter authentic props used in the Harry Potter and Fantastic Beasts movies. Some of these will be wardrobe pieces, but there will also be things like wands and even re-created characters like Buckbeak and Dobby.
Food and Drink
Most fans of the Harry Potter books and movies will agree that wizarding cuisine is every bit as enchanting as the spells and magical creatures. From butter beer to Great Hall feasts, there was plenty to make your mouth water. And you can get a taste of it at a few different sections within the Harry Potter theme park in Tokyo.
Chocolate Frog Café
Line up to a sparkly, golden counter and purchase tasty drinks like butterbeer or desserts from a magical menu.
Backlot Café
Experience a Harry Potter-themed English tea with sweets that would make Professor Umbridge drool for ¥6,500 per person. Reservations are necessary and it needs to be for a party of two or more.
The Food Hall
If you're looking for more of an actual meal, head to the Food Hall where you'll find British cuisine-inspired options.
Gift Shop
Looking to finally get your hands on a personal wand? Want a set of Gryffindor robes? You can find it all and more at the world's largest Harry Potter gift shop.
Bonuses
In addition to all of the above, the Harry Potter theme park in Tokyo also offers several little bonuses that make the trip worthwhile:
Green screen experience where you can watch yourself fly around on a broom
Audio tour guide (for an extra cost)
Short film screening upon entry
Is Harry Potter Studio Park Opening in June in Tokyo?
Harry Potter Studio Park is set to open on Friday, June 16th, 2023 in Tokyo. Tickets are already on sale and are sold out for June. Even July is selling out fast, with only weekday options available.
How to Get Harry Potter World Japan Tickets
If you're looking to hop on a train for Hogwarts, you'll need to get tickets first. And there's only one way to do that.
Head on over to the online ticketing counter on the Warner Bros Studio Tour site and make your purchase there. Since entry times are staggered and tickets are limited, you'll need to choose your entry time for the Harry Potter Studio Tour ahead of time:
Studio tour opens at 9:30 AM
First tour begins at 10 AM
Last tour begins at 3:30 PM
Park closes at 7:30 PM
You can enter every 30 minutes from 10 AM onwards and entry times change slightly based on the time of year. For example, in July the last tour is at 5 PM, not 3:30. Tickets sales are also staggered, so October tickets won't be available until after the park opens. For more info on that, you'll want to subscribe to the Harry Potter tour's newsletter.
You'll be given an online confirmation email which you can use to check in to the park in case you lose your tickets.
One other thing to be aware of: Tickets for Tokyo's Harry Potter world are not sold on site. So don't show up on the day of without tickets. They won't let you in.
Hogwarts Japan Entrance Fees and Other Costs
There are two ticket options for the Warner Brother's Studio Tour in Tokyo. The first is the basic ticket package which grants you access to all of the park's facilities.
The second package gives you a digital guide and an official guidebook that could make for a nice souvenir.
Here's the cost breakdown:
| | | |
| --- | --- | --- |
| Age | Base Ticket Price (¥) | Ticket Package Price (¥) |
| 18+ | 6,300 | 9,600 |
| 12-17 | 5,200 | 8,600 |
| 4-11 | 3,800 | 7,300 |
| 0-3 | Free | Not Available |
In addition to these fees, there's also parking available for ¥1,800 that you can reserve through the same ticketing site.
Access to Tokyo's Harry Potter Theme Park
You can get to the studio tour by car, but if you want the best experience, it might be best to arrive by train since the Toshimaen station was renovated to somewhat resemble Hogsmeade's station.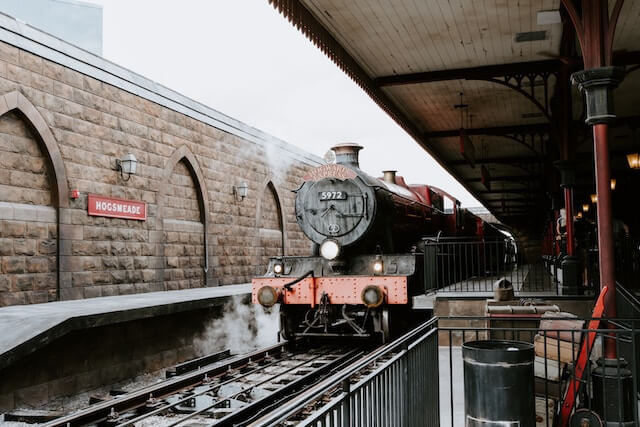 By Train – Head for Toshimaen station in Nerima ward. From there it's a short 2-minute walk west to the theme park.
By Car – Purchase your car park ticket ahead of time and pull up to the studio.
Other FAQs
Have other questions? We've got answers.
How Long Can You Stay at Harry Potter Studio?
Entry to the Harry Potter Studio grants unlimited access for the entire day, so you can stay for as long as you want. Bear in mind that the park has certain opening and closing times. For example, the park will be open in June from 9:30 AM to 7:30 PM. In July the hours are 8:30 AM to 8 PM.
Can You Do Harry Potter World in One Day?
You can easily do Harry Potter World in one day. In fact, the tour is designed to take no more than 3 hours, but your ticket gives you unlimited access to the park for the whole day. So, if you feel like staying from the time of your reservation until close, there's nothing stopping you.
Is Harry Potter World Worth It?
Harry Potter world is completely worth it as long as you understand that it's not a place for thrill-seekers. Instead, it's an immersive studio tour that provides insight into how the films were made.
Soaking up the atmosphere and popping into the shops and Harry Potter-themed restaurants will be more than satisfying for any fan of the books and movies.
How Early to Arrive for Harry Potter?
You need to reserve an entry time, and you should aim to arrive at the Harry Potter theme park at least 10 minutes before your reservation. As your ticket permits entry for the entire day, you should still be able to enter the park even after your allotted time, but the homepage isn't clear on that.
Conclusion
From detailed sets and props to delicious treats sold at themed restaurants and cafes, the Harry Potter theme park in Tokyo has it all. If you're a fan of the books or movies, there's plenty to keep you engaged. Just make sure you get on those ticket sales far in advance.
Once you do, hop on your broom, train, or hippogriff and come on down to Japan's very own Warner Brothers Studio Tour.
---
Toshimaen photo by Asanagi – Own work, CC0, https://commons.wikimedia.org/w/index.php?curid=75844252